The Law Offices of Georges M. Meleka - Orange County, California

Serving Anaheim and West Los Angeles for Personal Injury, Criminal, Immigration, Auto Accident cases and more!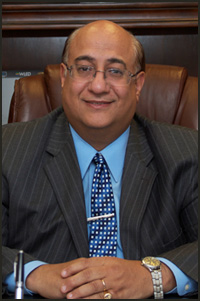 Our law firm is committed to provide the highest level of professional service to every injury victim seeking justice and compensation. Our attorneys and staff place an emphasis on providing legal services that deliver exceptional results to each and every client we represent by different languages. Our offices are fluent in English, Spanish, French and Arabic. We are California's premier personal injury law firm and if you can't come to us, we'll come to you!
Our attorneys have excellent reputations, with a 98.6% success rate and 4 California offices, we are the solution to your legal issues. We consider your legal problems to be OUR legal problems, and that is our guarantee! We will immediately speak to you and answer all your questions.
Our offices offer free phone, home or office consultations. If you can't come to us, we'll come to you. We also offer evening and weekend appointments, so that you can get the help you need, when you need it. To speak with us about your personal injury, criminal, immigration, auto accident, business contract or family law case, call us today at 714-563-0111 or visit our Contact Us page.
We Will Fight For Your Rights!


How The Law Offices of Georges M. Meleka Will Win Your Case!
Our offices will follow every reasonable lead, hire the best experts available and implement the latest innovative technology to give you the edge in your case. Because of our diligence and fine reputation, most of our cases are favorably settled out of court, without even going to trial.
Our law offices are extremely thorough in preparing each case; we are relentless in the pursuit of winning cases for our clients; we are aggressive against the opposition and we work harder than the attorneys opposing your case. As an indication of our clients' approval and satisfaction with our legal services, they have continuously referred their family and friends to our law firm.
We pride ourselves on creating and maintaining longstanding relationships with our clients. In addition, we do not charge any fees unless, and until, we win your case. Our law offices' fees are based on a reasonable percentage of the amount we obtain for you, from your case.
Depending on your case, our office will obtain the most money for your pain and suffering, get you medical treatment and have your bills paid or even repair or replace your motor vehicle and arrange rentals!
Hablamos Español
Nuestro equipo esta adecuado a proveher el nivel profesional mas alto en lo que a nuestro servicios serefiere, Si ha sido lastimado. La victima busca por justicia y compensacion. Nuestro abogado y el personal nos enfocsmos a proveher servicios legales que traigan resultado excepcionales. Acada uno de nuestro clientes.
Give us a call today at
714-563-0111

or visit our Contact Us page to tell us about your case!
Our Office Staff are Fluent in English, Spanish, Arabic and French
Free Phone, Home or Office Consultations!

Our Firm's Practice Areas
Call us today at:
714-563-0111
or visit our
Contact Us page